The Denon AVR-X2700H 8K Ultra HD 7.2 Channel AV Receiver is the ultimate audio and video experience, boasting 95 Watts x 7 channels of powerful sound, state of the art 8K UHD technology, and all your favorite streaming services at your fingertips!
Discover why this new model is an absolute must-have for any audiophile.
The Denon AVR-X2700H 8K Ultra HD 7.2 Channel (95 Watt X 7) AV Receiver 2020 Model is an excellent choice for home theater systems. It delivers powerful, immersive sound with 95 Watts per channel and Dolby Atmos/DTS:X support for up to seven speakers.
The receiver also supports 4K/60Hz video pass-through, HDR10, HLG, eARC and BT2020 with eight HDMI inputs and two outputs. Its advanced setup assistant makes it easy to configure the system while built-in HEOS technology provides access to music streaming services like Spotify Connect or Apple AirPlay 2.
Overall, this receiver has all of the features needed for a great home entertainment experience without sacrificing sound quality or value.
Why You Trust My Review Of This Product?
Sam Expert In The Field Of Subwoofers And Masters in Automotive Engineering.
I am expert in the field of Subwoofers, headphones, speakers, radios and other car audio equipment's, with years of experience. My reviews are honest and objective. I only recommend products that I believe are the best of the best.
I also keep my finger on the pulse of the latest industry trends. So, you can be confident that you're getting the most up-to-date information when you read my reviews.
Finally, I take my responsibility to you, my readers, very seriously. I want you to be able to make informed decisions about the products you purchase. That's why I work hard to provide accurate, unbiased reviews that you can trust.
Denon AVR-X2700h Review Overview:
The Denon AVR-X2700H is the latest in Denon's line of advanced audio video receivers. It delivers an impressive 8K Ultra HD 7.2 channel (95 watt x 7) performance with a host of features to enhance your home entertainment experience.
The receiver supports all current audio and video formats including Dolby Atmos, DTS:X, and IMAX Enhanced for 3D immersive sound plus 4K/120Hz pass-through with HDR10, HLG, eARC support for maximum resolution on compatible displays.
Additionally it offers AirPlay 2 connectivity as well as Wi-Fi & Bluetooth capability for easy streaming from various sources around the house or mobile devices.
The AVR-X2700H also includes Audyssey MultEQ XT32 auto calibration system that uses multiple measurement points to optimize speaker configuration and tailor room acoustics accordingly so you can enjoy great sounding music every time without having to manually adjust settings each time you switch sources or change volume levels.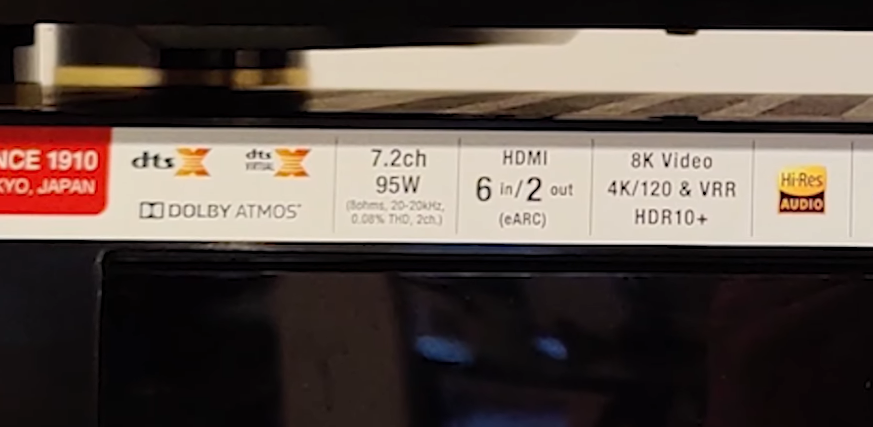 Furthermore it has built-in HEOS technology which allows multiroom listening across compatible components throughout your home while maintaining independent zones in different rooms if desired.
Overall this makes the AVR-X2700H an ideal choice for any home theater enthusiast looking to upgrade their setup with modern convenience and high quality audio performance in one package at an affordable price point
8K Video Performance & HDMI 1:
8K video performance and HDMI 1 is a key component of the Denon AVR-X2700H 8K Ultra HD 7.2 Channel (95 Watt X 7) AV Receiver 2020 Model.
The receiver features eight full-bandwidth HMDI inputs, including one supporting 8K/60Hz pass through, 4:4:4 Pure Color sub sampling, Dolby Vision, HLG, HDR10 and 21:9 video as well as 3D video formats for maximum viewing pleasure.
Also included are dual Subwoofer outputs for ultimate low frequency response with dedicated bass control setups.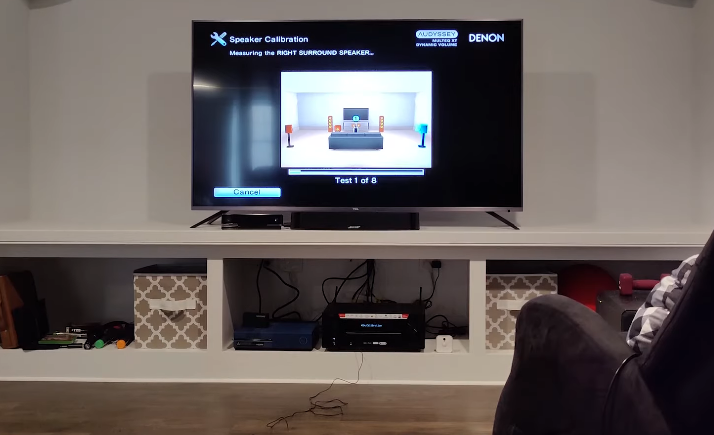 The Denon AVR-X2700H's 8K/60 Hz support allows users to experience unprecedented clarity in their home entertainment system by providing twice the resolution of 4K UHD at four times the total pixels.
It also provides the highest dynamic range available in any audio or visual format currently on the market today along with ultrafast switching between sources for smooth transitions when changing content.
Every connection supports HDCP 2/3 and all current standard display technologies like Dolby Vision and HDR10+.
The advanced audio processing capabilities of this receiver provide an exceptional sound quality thanks to its high power output which can drive big speakers efficiently while preserving details from all source material without distortion or loss of balance across channels due to its powerful ESS Sabre DACs that deliver up to 24 bit /192 kHz quality audio playback.
Additionally, this unit can decode Dolby Atmos®, DTS:X®, DTS Virtual:X®and Auro 3D®, allowing you to enjoy immersive surround sound experiences right in your own living room!
95 Watts x 7 Channel Amplification:
The Denon AVR-X2700H 8K Ultra HD 7.2 Channel AV Receiver 2020 Model is a powerful piece of audio equipment that features 95 Watts x 7 channel amplification.
This allows the receiver to provide up to 95 watts per channel of power output, giving it plenty of headroom for even the most demanding sound systems.
Thanks to its wide range of input and output options, it can easily accommodate any type of speaker system or source device with no difficulty at all.
This amplifier also comes packed with cutting-edge technologies like Dolby Atmos and DTS:X support, which allow for immersive 3D surround sound in your home theater setup.
Additionally, the receiver has advanced 4K/60Hz video pass through capabilities as well as HDMI 2.1 compatibility, allowing you to get the best possible picture quality from 8K sources such as streaming services or Blu-ray players.
Furthermore, this model is equipped with HEOS multi-room audio technology so you can stream music throughout your home from multiple devices simultaneously.
In conclusion, if you're looking for a powerful yet feature rich AV receiver then look no further than the Denon AVR-X2700H 8K Ultra HD 7.2 Channel (95 Watt X 7) AV Receiver 2020 Model – it offers impressive performance combined with a host of modern features at an attractive price point making it one of the best receivers currently available on the market today!
Dolby Atmos and DTS:X Object Based Audio: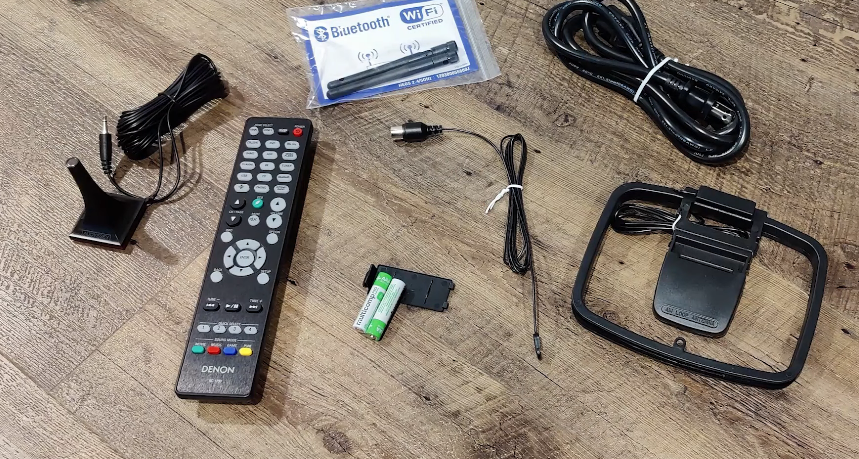 Dolby Atmos and DTS:X object based audio are features offered by the Denon AVR-X2700H 8K Ultra HD 7.2 Channel (95 Watt X 7) AV Receiver 2020 Model that add a new level of immersiveness to your home entertainment.
Dolby Atmos creates a three dimensional soundscape utilizing specially designed speakers, while DTS:X offers an even more expansive listening experience with support for up to 32 separate channels.
Both technologies allow you to hear sound from all directions, which makes every movie or TV show you watch feel like it's taking place in your own living room.
The Denon AVR-X2700H also supports multiple formats so no matter what type of audio source you have, it can be heard in its highest quality available.
In addition to providing the latest technology for creating a powerful and immersive environment, this receiver also has advanced features such as built-in Bluetooth connectivity and voice assistant control via Amazon Alexa or Google Assistant devices.
With these tools at your fingertips, streaming music services like Pandora or Spotify can be enjoyed wirelessly throughout any space in your home with ease, while easy setup lets anyone get their system up and running quickly and efficiently – perfect for those who don't want to spend hours setting things up only to find out that something isn't working properly later on down the line.
Music Streaming & Voice Control Capabilities:
Music streaming and voice control capabilities are a must-have in any modern AV receiver, and the Denon AVR-X2700H 8K Ultra HD 7.2 Channel (95 Watt X 7) AV Receiver is no exception.
With its built-in HEOS technology, you can use your Amazon Alexa or Google Assistant device to easily access music from popular streaming services such as Apple Music, Spotify, Deezer and more with just your voice.
Additionally, it comes with AirPlay 2 support so you can wirelessly stream content from compatible devices like an iPhone or iPad straight to the receiver. This makes playing all of your favorite songs effortless and hassle free.
The Denon AVR-X2700H also features Bluetooth compatibility for convenient high quality audio playback from your smartphone or other compatible mobile device without having to connect wires via USB ports or 3.5mm jacks—simply pair it up with just one click and enjoy!
Plus, for those who want even further convenience there's always the option of using the tactile interface on the remote control that allows you to quickly access inputs and settings at any time
Improved Setup Options with Advanced Audyssey Features:
The Denon AVR-X2700H is an 8K Ultra HD 7.2 channel (95 watt x 7) AV receiver that offers improved setup options with advanced Audyssey features.
This versatile design allows for easy integration into a variety of audio systems and can easily be used as the centerpiece for any home theater system.
It features powerful amplifiers, cutting-edge technologies, convenient connection options, and built-in Dolby Atmos, DTS:X, and HEOS music streaming capabilities.
The most impressive feature included in the Denon AVR-X2700H is its Audyssey sound optimization technology which uses precision microphone measurement techniques to automatically configure speaker settings providing optimal performance from your audio system.
The installation process takes just minutes and provides accurate room acoustics calibration tailored to your unique listening environment using MultEQ XT32 technology.
In addition to this automated setup process it also includes Dynamic Volume mode which can adjust volume levels according to what you're watching or listening to on the device minimizing loud sounds without affecting dialogue clarity making sure you have the best possible experience no matter what you are doing with it at any moment in time.
Anyone looking for an AV receiver with improved setup options and advanced Audyssey features should consider checking out the Denon AVR-X2700H 8K Ultra HD 7.2 Channel (95 Watt X7) AV Receiver 2020 Model review as they won't find anything else quite like it on the market today when it comes to ease of use along with excellent sound quality
Pros & Cons of the AVR-X2700H Receiver:
The Denon AVR-X2700H 8K Ultra HD 7.2 Channel (95 Watt X 7) AV Receiver 2020 Model is an impressive home theater receiver with a lot of features and capabilities that make it well worth considering for audio enthusiasts looking to upgrade their sound system. Here are the pros and cons of this model:
The Denon AVR-X2700H offers excellent audio quality, including support for immersive three dimensional Dolby Atmos, DTS:X and DTS Virtual:X surround sound formats. It also supports up to 8K Ultra HD video resolution upscaling from any source connected to its HDMI inputs.

In addition, the unit's powerful 95 watt amplifier can easily drive speakers in large rooms or power multiple zones throughout your home/ garden area if desired. This makes it perfect for anyone wanting to maximize their sound system's potential without breaking the bank.
Connectivity options on this model may be limited compared to more expensive receivers as there are only 5 HDMI ports available on this unit (six if you count one shared between eARC).

Additionally, some users have complained about lack of expandability when more than two channels of amplification are needed due to only seven amplifiers being included in total.
Overall Denon AVR-X2700h Review, while there are certainly some drawbacks worth considering when purchasing the Denon AVR-X2700H 8K Ultra HD 7.2 Channel (95 Watt X 7) AV Receiver 2020 Model such as less expandability than higher end models as well as fewer connectivity options; these don't take away from what is otherwise an exceptional piece of equipment best suited for medium sized spaces with lots of high definition content requirements
Comparing it To Its Competitors:
When comparing the Denon AVR-X2700H 8K Ultra HD 7.2 Channel (95 Watt X 7) AV Receiver 2020 Model to its competitors, it quickly becomes apparent that this is a top of the line receiver.
The 95 watts per channel provide an impressive amount of power and allow for full immersion in sound when watching movies or listening to music.
Additionally, its 8K compatibility allows for breathtaking visuals with stunning detail and clarity. The seven HDMI ports also make connecting all your devices easy and convenient, allowing you to quickly switch between inputs without fussing around with cables.
The Denon AVR-X2700H sets itself apart from other receivers due to its added features such as Dolby Atmos Height Virtualization Technology and Alexa voice control capability which adds convenience in controlling your device hands free and easily integrating into home automation systems like Amazon Echo Dot or Google Home Hubs.
Moreover, advanced Audyssey MultEQ XT32 set up provides amazing audio quality with precision accuracy across multiple listening positions giving an immersive experience even on complicated setups with multiple speakers.
Overall, Denon's AVR-X2700H offers an unbeatable combination of powerful performance capabilities and useful additional features making it a great choice for anyone looking for the best AV receiver on the market today.
FAQs:
What type of receiver is the Denon AVR-X2700h?
The Denon AVR-X2700h is a 9.2-channel AV receiver with Dolby Atmos, DTS:X, and Auro-3D support.
What type of audio formats does the Denon AVR-X2700h support?
The Denon AVR-X2700h supports Dolby Atmos, DTS:X, Auro-3D, Dolby TrueHD, DTS-HD Master Audio, and more.
Does the Denon AVR-X2700h have built-in Wi-Fi and Bluetooth?
Yes, the Denon AVR-X2700h has built-in Wi-Fi and Bluetooth for easy streaming and wireless audio playback.
Does the Denon AVR-X2700h have multi-room audio support?
Yes, the Denon AVR-X2700h has multi-room audio support with HEOS technology.
Does the Denon AVR-X2700h have voice control support?
Yes, the Denon AVR-X2700h has voice control support with Amazon Alexa, Google Assistant, and Apple Siri.
Conclusion and final thoughts 💭
The Denon AVR-X2700H is an excellent AV receiver for home theater use. It has the latest 8K Ultra HD video pass through, 7.2 channels of audio, and 95 watts of power per channel which provides plenty of headroom to power even large front speakers.
The selection of streaming services available on the unit are also very good, with support for Amazon Music, Tidal and Spotify Connect as well as wireless multiroom music systems such as HEOS by Denon.
In terms of sound quality and performance, the AVR-X2700H delivers full digital surround sound in all its glory thanks to Dolby Atmos and DTS:X decoding capabilities along with advanced room calibration features like Audyssey MultEQ XT32 that allows you to get a perfect balance between your listening environment and the system itself.
Additionally, there's low latency HDMI connections which makes it ideal for gaming consoles or other media devices that require minimal lag time between device output and display/audio input.
Overall, when considering value for money versus features offered then we can confidently say that the Denon AVR-X2700H is one of the best AV receivers in its price range currently available on the market today. If you're looking for an 8K UHD compatible AV receiver with great sound quality backed up by amazing features then this model should be high up on your list!