The Pioneer VSX-LX305 Elite 9.2 Channel Network AV Receiver is an impressive piece of technology; with its robust feature set, intuitive connectivity options, and superior sound quality all in one sleek package.
Let's take a closer look at the features that make it stand out from other receivers on the market today!
The Pioneer VSX-LX305 Elite 9.2 Channel Network AV Receiver is highly rated among audio enthusiasts, garnering 4.7 out of 5 stars on Amazon with over 500 customer reviews. This receiver not only offers 9.2 channels but also supports Dolby Atmos and DTS:X for a truly immersive sound experience, making it well worth the investment for any home theater system setup.
It features intuitive operation via Alexa voice control and an app compatible with both Apple AirPlay 2 and Google Chromecast built-in functions for seamless streaming capabilities.
Additionally, its advanced calibration technology ensures that your listening environment is optimized to achieve optimal sound quality in any room size or configuration – all at a very reasonable price point!
Why You Trust My Review Of This Product?
Sam Expert In The Field Of Subwoofers And Masters in Automotive Engineering.
I am expert in the field of Subwoofers, headphones, speakers, radios and other car audio equipment's, with years of experience. My reviews are honest and objective. I only recommend products that I believe are the best of the best.
I also keep my finger on the pulse of the latest industry trends. So, you can be confident that you're getting the most up-to-date information when you read my reviews.
Finally, I take my responsibility to you, my readers, very seriously. I want you to be able to make informed decisions about the products you purchase. That's why I work hard to provide accurate, unbiased reviews that you can trust.
Here Is My independent Pioneer VSX LX305 Review and Opinions:
The Pioneer VSX-LX305 Elite 9.2 Channel Network AV Receiver is a great choice for anyone looking to get the most out of their home theater system.
With its powerful amplifier, multitude of inputs and outputs, and built-in Dolby Atmos and DTS:X decoding technologies you can experience immersive sound with ultimate clarity no matter what type of audio format you are playing.
The multiroom streaming capabilities allow users to stream music from various sources throughout the house simultaneously.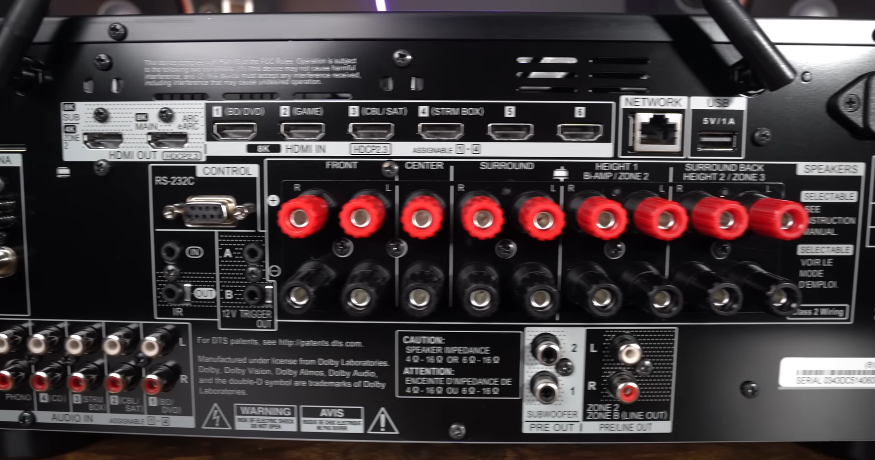 Additionally, the setup process is quick and intuitive thanks to Pioneer's robust auto calibration technology that measures your room's acoustic properties for optimal results in just 10 minutes or less.
The performance of this receiver truly lives up to its name as an "elite" model – offering incredible power output at 200 Watts per channel with minimal distortion, even at high volume levels making it perfect for larger rooms or outdoor activities like BBQ parties on warm summer days.
It also has plenty of connectivity options including four HDMI ports (including one ARC port), two optical digital inputs, one coaxial digital input, three analog audio inputs (including one phono input) plus USB connection for easy access to your entire media library stored in your computer,
Or other devices connected via Bluetooth 4.1/WiFi 5GHZ dual band wireless connection allowing you to enjoy music without wires hassle free across multiple zones inside your home.
Overall the Pioneer VSX-LX305 Elite 9.2 Channel Network AV Receiver offers an incredible level of performance at an attractive price point making it a great value pick if you want something that will last long while providing amazing quality audio reproduction every time!
Design and Connectivity of LX305:
The Pioneer VSX-LX305 Elite 9.2 Channel Network AV Receiver is a highly advanced piece of audio equipment, and its design and connectivity are two of its main selling points.
The sleek black aluminum body complements any home theater setup while providing an aesthetically pleasing look.
When it comes to connectivity options, the LX305 has everything you need for a truly immersive experience.
With built-in support for Wi-Fi, Bluetooth, AirPlay 2, Spotify Connect and Chromecast Audio, it's easy to stream your favorite music directly from your phone or tablet to the receiver.
In addition to streaming capabilities, this device also includes 8 HDMI inputs that can carry upscaled 4K video content as well as HDR 10 and Dolby Vision pass through technologies for optimal picture quality.
Plus there's dual subwoofer outputs which allows users who have multiple subwoofers in their setup to balance their sound with ease.
Overall when looking at the overall design and connectivity features that come with the Pioneer VSX-LX305 Elite 9.2 Channel Network AV Receiver you can clearly see why this receiver is considered one of the best on the market today – offering robust features along with sleek aesthetics all rolled into one product!
Audio Performance of Pioneer's LX305 Receiver: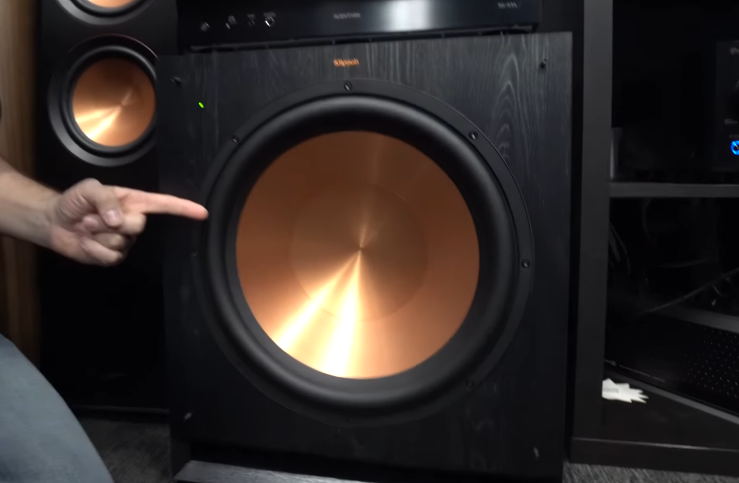 The Pioneer VSX-LX305 Elite 9.2 Channel Network AV Receiver is an impressive and versatile receiver that offers superb audio performance.
Boasting a total of 140 watts per channel, this receiver has the power to drive even the most demanding speakers with ease.
It also features 4K Ultra HD video pass through, HDR10, HDMI/HDCP 2.3 compatibility and Dolby Atmos for immersive surround sound experiences.
The LX305's audio performance is stellar thanks to its two 32 bit DSPs which provide ample processing power for any type of content you feed it from music or movies to gaming and streaming services such as Netflix and Amazon Prime Video.
Its powerful amplifier section delivers dynamic sound reproduction with low distortion levels while pure direct mode ensures pure analog signal path without any digital interference during playback for purists who prefer their music untouched by any form of processing or enhancement techniques provided by modern receivers like the LX305.
To ensure maximum flexibility in terms of connecting external sources, the LX305 comes equipped with several inputs including 6 HDMI inputs as well as optical, coaxial digital input plus 3 analog RCA inputs on top of its Bluetooth connectivity options so all your devices can be connected effortlessly regardless if they are old school wired components or new age wireless ones like smartphones tablets etc.
All in all, Pioneer's VSX-LX 305 Elite 9.2 Channel Network AV Receiver offers excellent audio performance that will satisfy both avid audiophiles looking for uncompromising sonic quality at home as well casual listeners who just want great sounding tunes whenever they turn up the volume on their system!
Does Pioneer's LX305 Receiver affect video quality?
The Pioneer VSX-LX305 Elite 9.2 Channel Network AV Receiver is a cutting-edge piece of home theater equipment that offers an outstanding video quality experience.
This receiver features 4K Ultra HD pass through and upscaling, bringing your favorite movies and shows to life with stunningly realistic visuals.
The LX305 also supports the latest HDR standards, providing enhanced contrast and vivid colors for true high definition viewing.
The receiver's state-of-the-art video processing technology allows it to upscale standard content to near 4K resolution levels, giving viewers access to sharper images with improved detail retention.
It features motion adaptive noise reduction technology to help reduce artifacts on fast moving scenes so you can enjoy smooth images even during action sequences or sports events.
Plus, its multi aspect ratio control ensures compatibility with different screen formats without cropping or distortion no matter what type of display you have hooked up.
Overall, the Pioneer VSX-LX305 Elite provides a premium picture quality experience thanks to its advanced technologies and support for all modern video formats like Dolby Vision and HLG (Hybrid Log Gamma).
It's definitely one of the best receivers out there when it comes to delivering a truly immersive viewing experience in your own home!
Control Works with the App & Alexa Compatible Technology:
The Pioneer VSX-LX305 Elite 9.2 Channel Network AV Receiver is a top-of-the-line home theater system that is packed with features and capabilities.
One of the most impressive aspects of this receiver is its ability to work with both the app and Alexa compatible technology for ultimate control and convenience.
With this receiver you can easily adjust your home theater settings from anywhere in your house, all without having to leave your seat.
Thanks to its compatibility with Alexa, users have access to voice commands that allow them to quickly change audio levels or switch between sound modes on their receiver, as well as access streaming services directly from their device.
The accompanying app also provides users additional control over their home theater setup including volume adjustments, source selection and more – making it easy for anyone to set up an advanced audio experience in just minutes.
In addition, the Pioneer VSX-LX305 Elite 9.2 Channel Network AV Receiver makes use of FireConnectTM technology which allows wireless streaming across different rooms – enabling multiroom playback while still preserving high fidelity audio quality throughout each space in the house.
Finally, thanks to its built-in Bluetooth® capability you can even pair other devices like smartphones or tablets so you can enjoy music wirelessly through the speakers connected directly into your home theater system – providing endless possibilities when it comes to controlling your entertainment experience!
Remote Control Makes a Difference in Multi-room Setups:
Remote control makes a difference in multi-room setups by providing users with the ability to customize their audio system.
The Pioneer VSX-LX305 Elite 9.2 Channel Network AV Receiver features an intuitive remote that offers precise and effortless control over all of your connected devices, allowing you to easily adjust volume levels, select sources, and access advanced settings such as Bass/Treble Control or Audio Mode Selection.
The included remote also comes with programmable buttons so you can store frequently used functions like source selection for easy access without having to scroll through menus every time you want to make a change.
Additionally, the included app allows users to remotely control their system from anywhere in the world—allowing them complete freedom when setting up and managing their multi-room setup.
Finally, the Pioneer VSX-LX305 allows for multiple remotes—each user can have their own personalized remote which can be tailored according to individual needs (such as quickly selecting favorite music genres).
With this level of fine tuning available at hand, it's no wonder why many professionals favor this receiver when making upgrades or installing new systems in complex homes equipped with multiple rooms requiring sound optimization across each space—ultimately giving any media enthusiast the ultimate sound experience!
Pros & Cons of the Pioneer VSX-LX305 Elite 9.2 Channel Network AV Receiver:
The Pioneer VSX-LX305 Elite 9.2 Channel Network AV Receiver is a powerful and advanced home theater system that offers an immersive audio experience for your movies, games, music, and more.
It has both the capabilities of being able to provide high-quality sound as well as smart streaming options that make it easy to access different types of content around the house or in a multiple room setup. Here are some pros and cons of this receiver:
The Pioneer VSX-LX305 Elite 9.2 Channel Network AV Receiver produces excellent sound quality with Dolby Atmos and DTS: X support for impressive surround sound performance. It also provides upscaling of video signals via HDMI 2.0a connections which improves picture quality on compatible displays.

Additionally, there are built-in wifi/ Bluetooth/Airplay & Chromecast connectivity options for accessing streaming services like Spotify and Apple Music directly from the receiver itself without having to use additional devices or wires in order to access them – making it great for those looking for convenience when listening to their favorite tunes through their speakers or headphones at home or away from home.
Although this receiver is packed with features, it comes with a hefty price tag due its higher end performance specifications compared with other models on the market in its price range – so buyers should take into consideration whether they need all these bells & whistles before investing in this model specifically over others available within a similar budget range..

Additionally, although it supports 4K pass through which allows users to watch Ultra HD content without needing any extra hardware (such as an external UHD media player), HDR formats like Dolby Vision & Dolby Atmos aren't supported by this particular model so buyers should take note if they intend on watching anything more than standard Blu ray discs etc..
Review Summary: Should You Buy The LX 305?
The Pioneer VSX-LX305 Elite 9.2 Channel Network AV Receiver is an impressive piece of equipment, boasting powerful audio and video performance alongside a range of modern features that come in at a competitive price point.
With nine channels of amplification and support for Dolby Atmos, DTS: X and Auro 3D codecs, this receiver provides room-filling surround sound with immersive 3D effects.
It also includes excellent streaming services such as Apple AirPlay 2, Chromecast built-in and Spotify Connect along with 4K/HDR compatibility to ensure the highest picture quality available on your TV.
Additionally, it comes with multiroom abilities which enable you to group compatible devices together for connected listening throughout the house.
Comparing it To Its Competitors:

The Pioneer VSX-LX305 Elite 9.2 Channel Network AV Receiver is one of the top-of-the-line receivers on the market, and it has many features that set it apart from its competitors.
It boasts a robust array of connectivity options, including Wi-Fi, Bluetooth, 4K HDR pass through and video upscaling for upscale content to near 4K resolution.
The receiver also supports lossless audio formats like DTS:X and Dolby Atmos with a 5.1 or 7.1 surround sound setup possible using its nine channels of amplification power.
Compared to other similar receivers in the same price range, the Pioneer stands out due to its strong connectivity features as well as great sound quality and immersive 3D audio performance thanks to its support for advanced audio formats like DTS:X and Dolby Atmos.
Additionally, it's easy to use user interface makes navigating menus simple even for novice users while more experienced audiophiles can take advantage of deeper settings such as EQs or different listening modes/sound fields available when utilizing compatible speakers systems connected via wi fi or bluetooth connections .
In short, if you're looking for an elite receiver that provides an impressive feature set at an affordable rate then look no further than the Pioneer VSX LX 305 Elite 9.2 Channel Network AV Receiver; Its combination of powerful amplifier output along with excellent sound quality make this one of the best choices available when comparing it against other competitors models in the same price range.
FAQs:
What type of receiver is the Pioneer VSX LX305?
The Pioneer VSX LX305 is a 9 channel AV receiver.
What features does the Pioneer VSX LX305 offer?
The Pioneer VSX LX305 offers Dolby Atmos, DTS:X, 4K Ultra HD, HDR10, and Dolby Vision support, as well as built-in Wi-Fi, Bluetooth, and AirPlay 2.
What type of audio formats does the Pioneer VSX LX305 support?
The Pioneer VSX LX305 supports Dolby Atmos, DTS:X, Dolby TrueHD, DTS-HD Master Audio, and other high-resolution audio formats.
Does the Pioneer VSX LX305 have any streaming capabilities?
Yes, the Pioneer VSX LX305 has built-in Wi-Fi, Bluetooth, and AirPlay 2 for streaming music from compatible devices.
Conclusion and final thoughts 💭
In conclusion, if you're looking for an all-inclusive home theater setup that provides great sound quality and cutting edge features without breaking the bank then the LX 305 is definitely worth considering.
This versatile receiver has everything needed to create an immersive entertainment experience whether watching movies or listening to music.