The Denon AVR-X4700H 8K Ultra HD 9.2 Channel AV Receiver 2020 Model is a state of the art receiver that offers unparalleled sound and picture quality.
With 125 Watts per channel, you can enjoy immersive audio with cutting-edge digital Dolby Atmos and DTS:X surround sound formats.
The built-in object based processing allows for a rich and realistic home theater experience no matter what content you're watching or listening to. From gaming to movie nights at home, the AVR-X4700H has something for everyone!
The Denon AVR-X4700H 8K Ultra HD 9.2 Channel (125 Watt X 9) AV Receiver 2020 Model is a top of the line home theatre receiver that offers great sound quality and plenty of features. It supports 8K video upscaling, Dolby Atmos, AirPlay 2, and HEOS multiroom music streaming, as well as voice control through Amazon Alexa or Google Assistant.
The amplifier delivers 125 watts per channel for powerful sonic performance with low distortion – perfect for medium to large sized rooms when combined with floorstanding speakers. With eight HDMI inputs and three outputs it can easily connect all your sources including game consoles and Blu-ray players. All in all, this is an excellent choice for anyone looking for a high end audio/video system without breaking the bank!
Here Is My independent Denon AVR-X4700H review and opinions:
The Denon AVR-X4700H 8K Ultra HD 9.2 Channel (125 Watt X 9) AV Receiver is one of the most powerful and advanced AV receivers on the market today. I
t offers a range of features that can appeal to both audio and video enthusiasts, including support for 8K/60Hz video resolution as well as object-based surround sound formats like Dolby Atmos, DTS:X Pro, Auro-3D and IMAX Enhanced.
The receiver also supports high dynamic range (HDR) formats like HDR10+, Hybrid Log Gamma (HLG), Dolby Vision IQ and more.
Additionally, it includes built-in Wi-Fi with dual antennas which enables streaming over Apple AirPlay 2 or HEOS multiroom audio system so you can easily listen to music from your favorite streaming services such as Spotify, Pandora or Tidal in every room in your home.
In terms of performance, this receiver provides 125 watts per channel at 6 ohms with low distortion levels.
It has nine amplification channels plus two subwoofer outputs which allows users to create an immersive 3D surround sound experience for their movies or music listening sessions.
Furthermore, the unit offers eight HDMI ports with full 48Gbps bandwidth which means all your devices will be able to connect without issue—no matter how many you have plugged in simultaneously!
Plus there are four digital optical inputs if needed too making it extremely versatile when configuring connections around your home theatre setup.
Overall I think Denon did a great job creating this top notch av receiver that provides an incredible combination of power output along with cutting edge features for both audio & video applications alike—making it perfect for any movie buff or audiophile who wants something special in their living room theater setup!
Why You Trust My Review Of This Product?
Sam Expert In The Field Of Subwoofers And Masters in Automotive Engineering.
I am expert in the field of Subwoofers, headphones, speakers, radios and other car audio equipment's, with years of experience. My reviews are honest and objective. I only recommend products that I believe are the best of the best.
I also keep my finger on the pulse of the latest industry trends. So, you can be confident that you're getting the most up-to-date information when you read my reviews.
Finally, I take my responsibility to you, my readers, very seriously. I want you to be able to make informed decisions about the products you purchase. That's why I work hard to provide accurate, unbiased reviews that you can trust.
Check How We Did Research To Find These Best Products:
Ultra HD Video Quality:
Ultra HD Video Quality is a major feature of the Denon AVR-X4700H 8K Ultra HD 9.2 Channel (125 Watt X 9) AV Receiver 2020 Model.
This AV receiver features advanced video processing with support for 4K/60Hz, HDR10, Dolby Vision, HLG and eARC pass-through on all HDMI ports to ensure high quality video playback.
It supports 8K upscaling using its powerful on-board video processor and includes three HDMI 2.1 inputs for connecting your latest 8k devices such as streaming players and game consoles.
The receiver also offers lossless audio formats including DTS:X Pro, Dolby Atmos, IMAX Enhanced and Auro 3D Audio Processing along with other immersive sound formats that provide an impressive surround sound experience every time you watch a movie or listen to music.
Overall this model delivers top notch ultra HD performance with plenty of power handling capabilities that make it perfect for entertainment enthusiasts who want maximum flexibility when enjoying their favorite content in stunning clarity and detail.
Advanced Audio Technologies:
Advanced audio technologies are becoming increasingly popular in today's home theater systems, and the Denon AVR-X4700H 8K Ultra HD 9.2 Channel (125 Watt X 9) AV Receiver 2020 Model is no exception.
This top-of-the line receiver offers some of the best audio technology available on the market, allowing you to experience high fidelity sound without sacrificing clarity or detail.
One key feature of this receiver that makes it stand out is its ability to reproduce immersive 3D surround sound using Dolby Atmos and DTS:X formats.
The built-in HDMI ports allow for upconversion from regular 2 channel stereo sources into these formats for a truly immersive listening experience.
Additionally, this model supports advanced object recognition so even complex multi-dimensional sounds can be accurately reproduced with great precision.
The AVR-X4700H also features Audyssey MultEQ XT32 room correction technology which helps create an ideal acoustic environment by utilizing microphone measurements taken from multiple locations within your home theater space to automatically optimize all speakers in the system for better performance and overall balance throughout the room.
This ensures that everyone will enjoy improved dynamics and accuracy regardless of where they're sitting in relation to their speakers.
Setup & Configuration Simplified: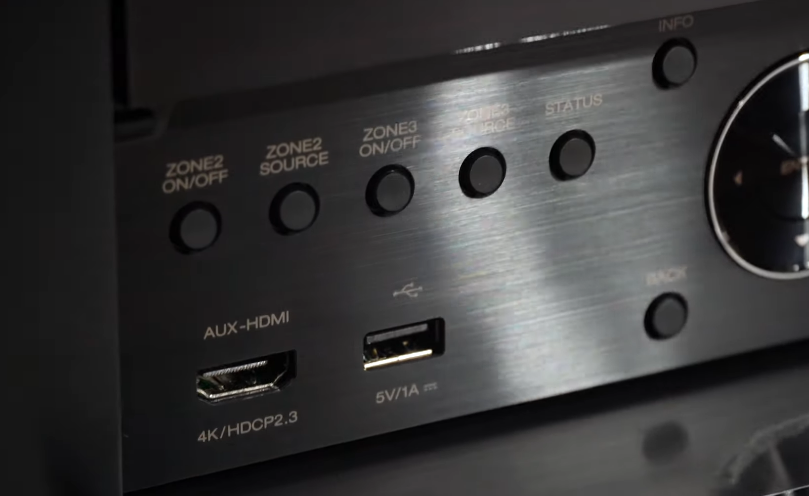 The Denon AVR-X4700H 8K Ultra HD 9.2 Channel (125 Watt X 9) AV Receiver 2020 Model is an excellent choice for any home theater enthusiast. Its setup and configuration are simplified thanks to its intuitive menu system and included remote control.
The receiver can be connected directly to a TV, Blu-ray player, gaming console or soundbar with minimal effort.
Additionally, the receiver has both HDMI 2.1 inputs and outputs that supports up to 8K video resolution and Dynamic HDR10+ support for exceptional image
quality making it perfect for playing modern media content in all its glory.
To further simplify setup, the AVR-X4700 also features Audyssey MultEQ XT32 automated room acoustic calibration which quickly adapts audio playback based on your listening environment while also providing EQ options such as virtual surround sound modes like Dolby Atmos Height Virtualization Technology (Dolby HVT).
This makes it easy for anyone to customize their experience without having to manually adjust settings or purchase additional equipment.
Last but not least, the AVR-X4700 provides access to streaming services like Apple Music, Spotify Connect, Amazon Music HD and TIDAL along with built in AirPlay 2 compatibility so you can instantly play music from your compatible devices without complicated set up procedures – just plug it in and get streaming!
Comprehensive Smart Home Integration:
Comprehensive Smart Home Integration is one of the key features of the Denon AVR-X4700H 8K Ultra HD 9.2 Channel AV Receiver 2020 Model.
This receiver offers a variety of options that allow users to easily integrate their home entertainment system into a smart home environment.
The receiver supports Alexa, Google Assistant and Apple AirPlay 2 voice control integration, allowing users to conveniently access music streaming services such as Spotify and Tidal without having to use remotes or other devices.
Additionally, it comes with HEOS Built-in multiroom audio technology so you can play your favorite tunes in any room around your house from compatible connected speakers or components.
The Denon AVR-X4700H also features HDMI eARC support for easy connection between television sets and audio receivers for high-quality sound transfer as well as 4K video pass-through which delivers high definition visuals on compatible displays like never before.
Furthermore, its IP control capabilities enable remote access through select third party apps such as ihiji Invision and Domotz Pro allowing users to set up automated controls over their system from anywhere in the world via internet connectivity ensuring seamless convenience while maintaining security at all times.
How it measures up in various categories of performance?
The Denon AVR-X4700H 8K Ultra HD 9.2 Channel (125 Watt X 9) AV Receiver is a tremendous piece of technology that offers the utmost in performance and value.
In terms of audio, this receiver excels with its nine channels each offering 125 watts of power and support for all current surround sound formats such as Dolby Atmos®, DTS:X™, and Auro 3D®.
This allows users to enjoy immersive surround sound whether they are watching movies or listening to music.
Additionally, it supports multiple input sources including HDMI 4K/8K pass-through which ensures users can always get the most out their entertainment experience no matter what equipment they have connected.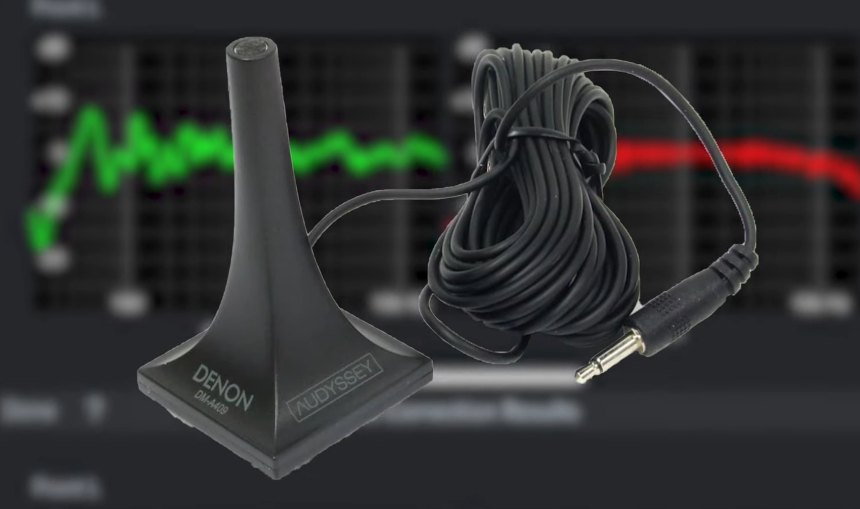 In terms of video quality, this receiver also impresses with its ability to upscale content from Standard Definition (SD), High Definition (HD), 4K Ultra HD (UHD) up to 8K UHD resolutions so no matter what type of television you have connected you will be able to get vibrant visuals from your favorite media devices.
Furthermore, it supports HDR 10+, Dolby Vision®, HLG*, along with Dynamic HDR formats making sure viewers always get an optimal picture quality regardless if the source material is old or new.
Finally, while network connectivity may not be as important as audio and video performance on a home theater system.
However, it still plays an important role when streaming content over Wi-Fi or using voice control systems like Alexa™ due to its built-in HEOS® wireless multiroom audio technology allowing users access all types of content without having anything physically wired up at all times which adds an extra layer convenience to any home theater setup
Comparing it To Its Competitors:
The Denon AVR-X4700H 8K Ultra HD 9.2 Channel AV Receiver is the latest addition to Denon's lineup of home theater receivers and it stands up against its competitors in a few ways.
It has several features that other popular models lack, such as HDMI 2.1 compatibility, voice control with Amazon Alexa and Google Assistant support, plus Dolby Atmos and DTS:X decoding for immersive audio performance.
When compared to similar models from competing brands, the AVR-X4700H offers more advanced setup options than many others, allowing users to customize their sound settings according to their preferences.
Additionally, this model also comes with an Audyssey MultEQ XT32 calibration system which helps optimize sound quality based on the room dimensions and speaker placement for even better performance.
Finally, the 125 watt per channel power output of the AVR-X4700H is higher than most comparable units on the market today which makes it ideal for larger rooms or setups that require more robust amplification capabilities – something budget friendly models often skimp out on in order to keep costs low.
All these features make the Denon AVR-X4700H one of top picks when looking at what's available in 2020
How It evolved from previous models?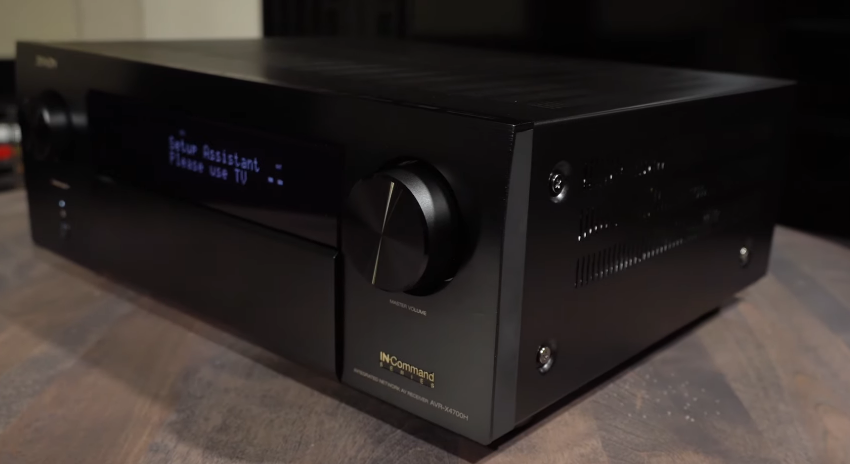 The Denon AVR-X4700H 8K Ultra HD 9.2 Channel AV Receiver 2020 Model is the latest in a long line of receivers that have been released by Denon over the years.
It represents an evolution from previous models, offering improved features and performance as well as compatibility with new technologies such as 8K Ultra HD video and high-resolution audio formats like Dolby Atmos.
Compared to its predecessor, the AVR-X4500H, this new model has significant upgrades to its power output (125 watts x 9 channels), expanded support for HDMI connections (8 inputs/3 outputs), built-in Wi-Fi and Bluetooth connectivity, HEOS multiroom music streaming system support, advanced calibration options for room acoustics optimization via Audyssey MultEQ XT32 setup assistant technology, more digital audio processing modes than ever before including Dolby Atmos & DTS:X object based surround sound decoding plus IMAX Enhanced soundtracks on compatible movies among many other enhancements.
This receiver also boasts some amazing future proofing capabilities such as eARC (Enhanced Audio Return Channel) which allows lossless transmission of uncompressed high definition audio content from TV apps directly into a home theater system via a single HDMI connection plus all 3D audio formats including 7.1 channels or up to 5.1 + 4 Height speakers at once when using optional external amplifiers connected via Preamp Outputs making it perfect for those who want ultimate flexibility in their home entertainment setup without sacrificing quality or performance.
Benefits and drawbacks:
When it comes to the Denon AVR-X4700H 8K Ultra HD 9.2 Channel (125 Watt X 9) AV Receiver 2020 Model, there are a few benefits and drawbacks users should be aware of.
The main benefit of this model is that it supports both 8K video and 3D audio formats, making it an ideal choice for home theater enthusiasts looking for immersive sound quality.

It also includes a variety of features such as Dolby Atmos Height Virtualization Technology, which creates virtual height channels from existing speakers; HEOS Built-in streaming technology so you can stream music wirelessly throughout your entire home; Amazon Alexa voice control compatibility; and more.

All these features make this receiver well worth its price tag.
However, one potential drawback to note is that since this unit is designed for multi-room setup configurations, setting up multiple components can be time consuming and requires some technical knowhow in order to get everything properly connected and synced together.

Additionally, while the built in amplifier does provide 125 watts per channel at 8 ohms impedance (measured from 20 Hz–20 kHz with 0.08% THD), some users may find it too weak if they're expecting higher power output levels or have large speakers or rooms requiring higher wattages per channel capability than what's provided here.
FAQs:
What type of receiver is the Denon AVR-X4700H?
The Denon AVR-X4700H is a 9.2-channel AV receiver with Dolby Atmos, DTS:X, and Auro-3D support.
What type of audio formats does the Denon AVR-X4700H support?
The Denon AVR-X4700H supports Dolby Atmos, DTS:X, Auro-3D, Dolby TrueHD, DTS-HD Master Audio, and more.
What type of video connections does the Denon AVR-X4700H have?
The Denon AVR-X4700H has 8 HDMI inputs and 3 HDMI outputs, as well as component video, composite video, and USB connections.
Does the Denon AVR-X4700H have built-in Wi-Fi and Bluetooth?
Yes, the Denon AVR-X4700H has built-in Wi-Fi and Bluetooth for streaming audio from compatible devices.