Buying a new Jeep Wrangler is always exciting, but there are always ways you can make it even better with upgrades. If you're someone who likes to listen to music on full blast while driving around, you need the best gear for it.
Since a Jeep requires a good low-pitched audio sound for maximal enjoyment, you can't settle for any speaker. You need a subwoofer that is every bit as powerful as you deserve.
Unlike regular car speakers, subwoofers cater to the lowest part of the audio spectrum, which is the only way to get the perfect drop and amazing bass.
There are many different subs on the market and this can make it difficult to choose the right one.
But don't worry, we are here to help you make the right decision. We made the list of the best subwoofers for Jeep Wrangler, and all you have to do is decide which sub you like the most.
Our Best Subwoofer For Jeep Wrangler JK
After careful consideration, our team determined that, depending on what you're looking for, the best subwoofer for Jeep Wrangler is one of the following:
Alpine Electronics SBV-10-WRA (Best Overall)
Alpine Electronics PWE-S8-WRA (Runner Up)
Pioneer TS-WX130DA (Best Portable)
Sound Storm Laboratories LOPRO8 (Best Underseat)
Rockville RW8CA (Best Budget)
Let's take a closer look at each of these subwoofers to see what makes them special.
5 Best Subwoofers For Jeep Wrangler Reviewed
#1 Alpine Electronics SBV-10-WRA
Alpine Electronics SBV-10-WRA Pre-Loaded 10″ Subwoofer System for 2007-2018 Jeep Wrangler JKU
The SBV-10-WRA is a 10-inch subwoofer pre-loaded into a sealed enclosure designed to fit under the front passenger's seat of the 2007-2018 JKU.

The lower frequency sound loads into the passenger's foot well to deliver quality sound and maximized bass extension even when the Wrangler's top is off.

The subwoofer's power handling of 300W RMS/900W Peak delivers dependable, well-rounded bass performance.

The SBV-10-WRA is weather resistant and rugged, rated at IP66 so it's protected from total dust ingress and water from any direction.

The SBV-10-WRA is an Authorized Online Product, visit the store locator on the Alpine USA website for professional installation.
Standing above all else, the best subwoofer for Jeep Wrangler is the Alpine Electronics SBV-10-WRA. The glowing product reviews on Amazon for this sub clearly show this.
This sound system was custom-made for both the Jeep Wrangler and JKU. It will fit like a glove into your Jeep and still give you enough room to move your seat.
If you want a good subwoofer without using any trunk space for it, this is the sub for you. It fits under the front or rear seat which allows for simple installation. And this also makes it nearly impossible to steal since it's very hard to pull it out when it's been mounted.
This subwoofer was rated at 300 watts RMS which means you can feel the bass at all times, regardless of whether you're driving on the highway or going off-road.
This power and the fact this sub was designed specifically for Jeep Wrangler JK means it's practically flying off the shelves, so you better get one of these subwoofers while you can.
What We Like
Amazing bass you can hear even with the top down.
The sub can fit perfectly under the seat so it's theft-proof and allows you to keep your trunk free.
What We Don't Like
Might get uncomfortable during long car rides.
A case that is easy to scratch.
---
#2 Alpine Electronics PWE-S8-WRA
Alpine Electronics PWE-S8 Restyle Compact Powered 8-Inch Subwoofer , black
8-Inch Subwoofer And 120W Amplifier, Housed Together In A Cast Aluminum Enclosure

The Compact Size Measures Just 13.5" L X 9" W X 3" D So It Can Be Installed Under Or Behind A Seat In A Truck, In A Sedan'S Trunk Or In An Suv'S Hatch

32Hz-150Hz Frequency Response, Power Rating: 120W Rms. Rca (0.1-4V) / Speaker Input (1.5-30V/Auto Sensing)

Rca And Auto-Sensing Speaker Level Inputs Are Located On The Side Panel, Along With Controls For Phase, Gain, Lp Crossover And Remote Sub Level
Next on our list is a subwoofer that was designed specifically for the 2011 up Jeep Wrangler.
So if you own this model, this is the sound system you've been looking for. However, it's good for any Jeep Wrangler, it doesn't have to be the 2011 up
This subwoofer has a premium sound system of PWE-S8 and its bass can easily be upgraded. It's an 8-inch subwoofer coming with a level knob as well as a JK-specific wiring harness.
Its frequency response is 25Hz-152Hz with a 120W RMS power rating so you can be sure it will provide you with the thump and sound quality you're looking for.
It comes with easy installation and wiring so even if you have never installed a subwoofer in a Jeep Wrangler before, you won't have any issues.
What We Like
Simple installation and wiring.
A remote bass level knob.
Amazing bass.
Very compact and doesn't take up too much space.
Input/power wire t-harness.
What We Don't Like
The sound system isn't compatible with the factory-equipped subwoofer system.
The shipping costs and import fees increase significantly when it's shipped online.
---
#3 Pioneer TS-WX130DA
Pioneer TS-WX130DA Compact Series 8″ x 5-1/4″ – 160 W Max Power – Compact Active Subwoofer
Pioneer TS-WX130DA Compact 8 x 5. 25 160-Watt Active Subwoofer with Built-in Amp 8 x 5. 25 woofer ; 160W max

50W nominal; Aluminum cone; Urethane surround; Built-in Class D amp; Digital Bass Control tailors frequency response & increases performance with selectable Deep or Dynamic listening modes; Gain

LPF

phase & bass modes controllable at remote; Freq resp

Deep Mode: 20Hz-200Hz; Freq resp
For those looking for a subwoofer with compact body paneling that is easily portable, the Pioneer TS-WX130DA is a great choice. This sub comes with a maximum power handling of 160W and has a frequency response of 20 Hz to 200 Hz.
The Pioneer TS-WX130DA sub comes with a built-in amplifier that can produce up to 160 watts, control digital frequency tailors for the bass, as well as a sealed enclosure aluminum cone.
The digital bass control allows you to change listening modes, and this sub provides you with two options: deep and dynamic. It also tunes the output and can complement various musical genres and vehicle types.
Even though the subwoofer is compact, you can rest assured it will produce deep and robust bass that will allow you to enjoy the bass thump of the music you play.
And as a bonus, it's one of the more affordable audio products on the market, starting at only $250.
What We Like
A very compact body that can fit in tight spaces.
Built-in 160 watts output.
An affordable price.
Wired remote control.
Digital bass control.
What We Don't Like
The sounds coming from the sub can sometimes become overpowered and distorted, which damages sound quality.
The warranty on this subwoofer is limited.
---
#4 Sound Storm Laboratories LOPRO8
Sound Storm Laboratories LOPRO8 Amplified Car Subwoofer – 600 Watts Max Power, Low Profile, 8 Inch Subwoofer, Remote Subwoofer Control, Great For Vehicles That Need Bass But Have Limited Space, Black
BUILT-IN AMPLIFIER: With a MOSFET power supply you get improved switching speeds, better performance with less power from the driver, lower gate-to-drain feedback capacitance, lower thermal impedance for higher switching frequencies

VARIABLE LOW-PASS FILTER: A low-pass filter is an electronic circuit that removes all the notes below the filters frequency setting. You will use the Low-pass filter to primarily keep high notes out of your subwoofer(s)

HIGH LEVEL INPUTS: Speaker level inputs are commonly referred to as high-level inputs. It will be used to connect the LOPRO8 to your factory radio or an aftermarket radio that does not have low-level (RCA) inputs

LOW LEVEL INPUTS: Line level inputs, also known as RCA inputs or low-level inputs, use RCA interconnect cables to link the LOPRO8 with the source unit. Most aftermarket radios have multiple pairs of RCA outputs that can connect to multiple amplifiers

VARIABLE BASS BOOST: Variable Bass Boost allows you to adjust the low bass within the boost range to just the way you like it

DIMENSIONS: 15" x 9.75" x 3". If you are short on space, this is a great solution for you. The combination of amplifier and subwoofer all into one, makes this ideal for spatially challenged vehicles

WARRANTY: Sound Storm provides a Powerful 3 Year Platinum Online Dealer Warranty so long as the purchase is made through Amazon.com. We strongly encourage professional installation of this product to ensure proper and safe functionality
Even though it is only 8 inches long, it has all the features of an ideal under-seat subwoofer for your Jeep Wrangler. It might be best for placing under your seat, however, its compact size allows you to mount it in almost any position you want.
But its small size doesn't mean the audio quality was sacrificed as the sound this subwoofer produces is full and lively. The maximum power is 600 watts and you can choose between high and low-level inputs
The build quality of this product is outstanding as it's very durable and tough, as well as surprisingly heavy. However, that heaviness comes from its case which is very high-quality and will do a good job of protecting your subwoofer.
The sub also comes with remote volume control which will allow you to tune and control the subwoofer as you please.
What We Like
The woofer has a built-in amplifier which allows for better performance.
The compact size allows for installation in multiple positions.
The sub comes with remote subwoofer control.
Maximum power of 600 watts for clean audio distribution.
Both high and low-level inputs.
What We Don't Like
A poorly written installation guide may cause you to have difficulty with installing the subwoofer.
---
#5 Rockville RW8CA
Rockville RW8CA 8″ 600 Watt Low Profile Under-Seat Active Powered Car Subwoofer
Rockville RW8CA 600 Watt 8 Active Sealed Slim Car Subwoofer.

600 Watts Peak Power / 150 Watts RMS. PWM MOSFET Power Supply.

Low Level RCA Input. High Level Inputs with Auto Turn-On Technology.

Adjustable Input Sensitivity. Soft Delayed Remote Turn-On.

Thermal Protection Circuit, Short Protection Circuit.

Overload Protection Circuit. Phase Switch: 0° or 180°. Low Pass Filter: 50Hz - 150Hz.

Bass Boost: 0 - 18dB @ 45Hz. Subwoofer Level Remote Control. Built in Subsonic Filter @ 29Hz.

Power Output: 150 Watts RMS Monoblock at 2 Ohms and 1% THD+N. Signal to Noise Ratio: 95 dB. Frequency Response: 20Hz - 150Hz. Sensitivity: 100dB @ 1w / 1m.

Dynamic Power: 600 Watts @ 2 Ohms. Dimensions: 12.4 x 11 x 2.7 (L x W X H) Inches.

Note: Kindly refer User Manual before use
If you're looking for amazing sound quality on a budget, look no further than the Rockville RW8CA. This subwoofer is one of the best-rated Rockville subwoofers so you can be sure it's a great deal.
Just like the previous entry on our list, it's an 8-inch subwoofer that packs a lot of heat and produces amazing sounds in compact packaging. It is rated at 150 watts RMS and has an amazingly rich bass that can be heard perfectly inside the car without the audio disturbing anyone outside of it.
Since it's another smaller model, it can easily be installed under the front or rear seat, in the cargo area, or anywhere else in your Jeep Wrangler. However, you need to keep in mind that it does come with a blue light which may be distracting if you leave it in a visible position.
What We Like
A very affordable sub.
A powerful bass that isn't too loud on the outside.
A compact and low-profile design that allows it to fit anywhere, even with limited space.
What We Don't Like
A less powerful bass than what you can find on bigger and more expensive models.
A blue light that might be distracting.
---
How To Choose A Jeep Wrangler Sub?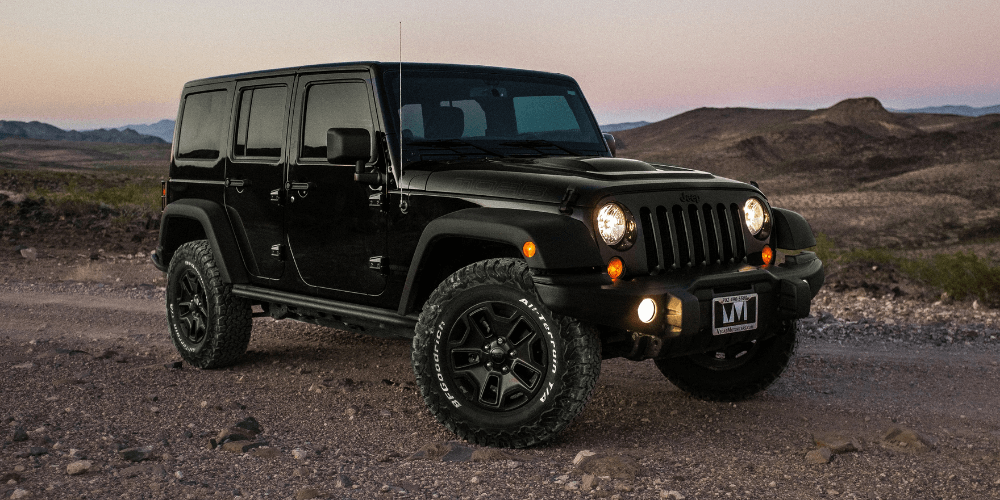 Here are all of the things you need to take into consideration when choosing the perfect subwoofer for your Jeep Wrangler.
Frequency range
The frequency range determines how low the sound the subwoofer produces is.
Power and sound quality
If you're looking for a subwoofer that can produce a powerful boom, look for a sub with a high RMS power rating, which measures the continuous power handling and the sound output.
Number of voice coils
Woofers usually come with one voice coil but audio enthusiasts prefer double voice coils (DVC) subwoofers which come with more flexible wiring.
Enclosure type
The enclosure type of your subwoofer as well as the place where you mount it will determine what kind of sound your woofer will produce. A box with a sealed enclosure produces an accurate and deep sound while a bandpass and ported enclosure produce better volume.
Impedance
The impedance and power rating of your amplifier needs to match your subwoofer type. Typically, single voice coil subs come with 4 ohms impedance and double voice coil subs come with 8 ohms.
Woofer size
If you have minimal space in your Jeep Wrangler, a smaller woofer is the best choice. However, if size isn't an issue, take the power, sensitivity, and enclosure type into consideration so you can get the best size sub that will provide you with the ideal sound.
Sensitivity
A woofer that has low sensitivity will need more power and the one with high sensitivity will need less power.
Can you put a subwoofer in a Jeep Wrangler?
Installing a subwoofer in your Jeep Wrangler is a great way to improve the sound system. There are kits available that take up little space, making it easy to install under one of the seats in your Jeep.
A subwoofer can really improve the sound quality of your music, making it more enjoyable to listen to on long drives. If you are looking for a way to improve your Jeep's sound system, installing a subwoofer is a great option.
---
Frequently Asked Questions
Finally, let's go through some of the most frequently asked questions first-time subwoofer buyers usually have.
How can I make my Jeep Wrangler sound better?
Naturally, the first step is purchasing the perfect Jeep subwoofer, but there is a lot more you can do to get better quality sound and have a very loud Wrangler.
First of all, you should upgrade the front speakers in your Jeep Wrangler as that is where most of your sound system is produced. You can find them at the top and the bottom of the dash.
Also Read: Are Subs illegal?
If you want to upgrade their quality, you should look for bigger speakers. And additionally, upgrade the soundbar. While upgrading both the speakers and the soundbar can be expensive, it's a good investment if you want an amazing sound to go with your new sub.
Next, if your woofer doesn't come with an amp, make sure to purchase an amplifier and install it inside the dash since an external amp will provide amazing sounds. While most people choose to place their amp under the passenger seat, this could lead to damage due to moisture exposure and bumps.
And finally, if you want to go all out, you can add more speakers. Keep in mind that adding too many will make the available space in your Jeep very limited. But if you have a big enough Wrangler or if you just want to have amazing sound, there's nothing stopping you.
Also Read: Subs Vs Speakers
But try to make this the last possible step in making your Jeep Wrangler sound better because there are a lot of things you can do with a great subwoofer and the other tips we listed.
For some, this is a great idea, but for others, they wouldn't want to sacrifice the little space they have and are satisfied with a good sub.
Where do you put the subwoofers in a Jeep Wrangler JK?
If you choose to put your subwoofer under the seat, the installation will be simple and keep the source of your music hidden.
However, if you crank up the sound too much, the shockwaves the bass produces might be uncomfortable for the person riding shotgun.
If you put it into the rear paneling or rear cargo area, it will be mostly concealed and still very easy to install.
However, the downside to this is that even though the enclosures are similar to the factory trim, they're still not the same and your woofer will stand out.
What size subwoofer should I put in a Jeep Wrangler?
For a Jeep Wrangler, the standard size of a subwoofer is 8 since this Jeep comes with an 8-speaker MP3/AM/CD/FM receiver as well as aux and SiriusXM connectivity.
Of course, you can look at bigger subwoofers if you want to get extra features, don't mind losing some of your cargo space, and if you would rather have surround sound than the extra room.
But keep in mind that only an 8-inch speaker will fit under the seats in your car if you want that kind of placement.
How to install a subwoofer in a Jeep Wrangler?
No two subs are the same. How you will install one in your car and where it will be mounted depends on a few things.
The first is the brand of subwoofer you buy, but that shouldn't be a problem as it will come with an instruction manual which will be easy to follow
The second factor that concerns installation is the type of Jeep Wrangler you have. Different models have different spaces, and in turn, each Jeep model has a different way to install a subwoofer.
You might have to make some adjustments to the woofer you buy so it could fit in your Jeep.
Also Read: Will Installing A Subwoofer Void My Warranty
Final thoughts
There isn't one perfect subwoofer since Jeep Wrangler owners are different. While we talked about the best ones, the sub you ultimately decide on will depend on your desired features such as audio quality, the type of body paneling you're looking for, and what type of Jeep Wrangler you have.
The best subwoofer is the one you're satisfied with, that gives you the best sound quality, and that fits comfortably.
At the end of the day, you just need something that will make you happy while you're driving down the road and listening to your favorite songs.